BGA Test & Technology has developed a flexible, cost effective solution to meet individual customer needs of warehousing and kitting:. 
Capable of Up-Screening all Components from Commercial Temp to Industrial / Military Temp

Diodes, Transistors

EEPROM's, OTP's, FPGA's

Thyristors, SCR's , MCU's

SRAM's, NVRAM's, DRAM's

Resistors, Capacitors

Inductors. Voltage regulators

Flash memories, Analog and Digital Integrated circuits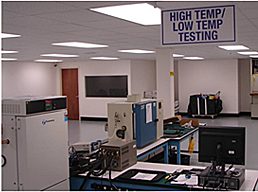 Utilizing ATV Digital Tester & PWS Analog Tester we are capable of testing in the range of -75°C to +200°C with multiple temperature chambers using the ATV / PWS digital & analog tester. All processes are MIL STD compliant. All tests include a comprehensive engineering report.