BGA TEST & TECHNOLOGY has developed a safe and reliable process for re-balling and ball attach with the capability to convert Pb-free spheres to Eutectic Solder (Sn63Pb37) or High Lead solder (Sn10Pb90) spheres for Military, Aerospace, and other High-Reliability Electronic Assemblies.
This process will also work in reverse to convert tin-lead spheres to Pb-free (SAC305) spheres for many commercial applications with RoHS restrictions.
Brief Description of Process
After going through a QA gate upon arrival, incoming lots undergo the following steps:
Incoming Inspection Process
Baking to Remove Moisture
De-balling: Automatic Using Six Axis ROBOT – Solder Sphere removal process
Automated Cleaning: Trident LD system
Baking to remove Moisture post De-ball
Re-balling: Patented Solder Sphere attachment process
Automated Cleaning: Trident LD process
Baking to remove Moisture post Re-ball
Final Inspection Process
Packaging and Shipping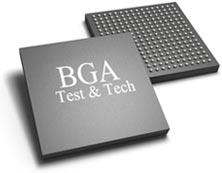 Devices pass through the process cycle with strict quality and process control for repeatable and reliable results.
Our Re-balling process has been proven to meet the requirements of ADHP (Aerospace, Defense, and High Performance) industries using the following qualification criteria:
Sonoscan (Pre & Post Re-balling) – Analysis for De-lamination
Ball Shear – Strength of ball adhesion
Coplanarity Test
Scanning Electron Microscope (SEM) – Post-Ball Shear Analysis
Cleanliness – Ionic Contamination Analysis
Electrical Testing (Pre & Post Re-balling)